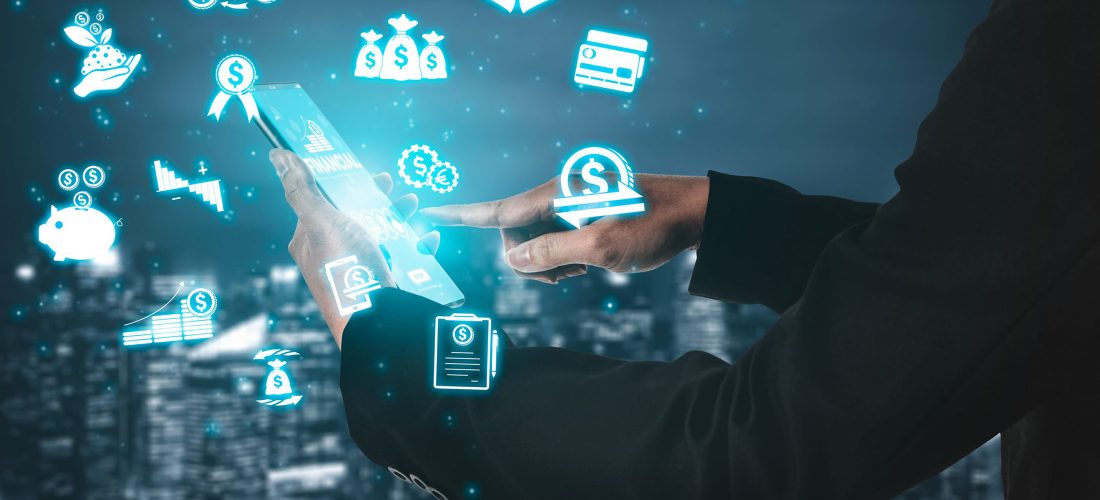 How ASEAN Region Is Leading The Way In The Fintech World (Part 2)
Author: Mia Bui2 yearsago 0 Comments 699 Views
Factors driving the evolution of Fintech in ASEAN region
Demand for Fintech solutions in ASEAN is powered by the vibrant, attractive market embracing economic potential, rapid adoption of technology and the fast pace of mobile and Internet penetration, as well as the need for financial inclusion of the underserved segment of consumers. These factors, combined with the increasingly innovative labor force have been transforming the payment landscape and driving ASEAN's Fintech boom.
   1. Vibrant, attractive market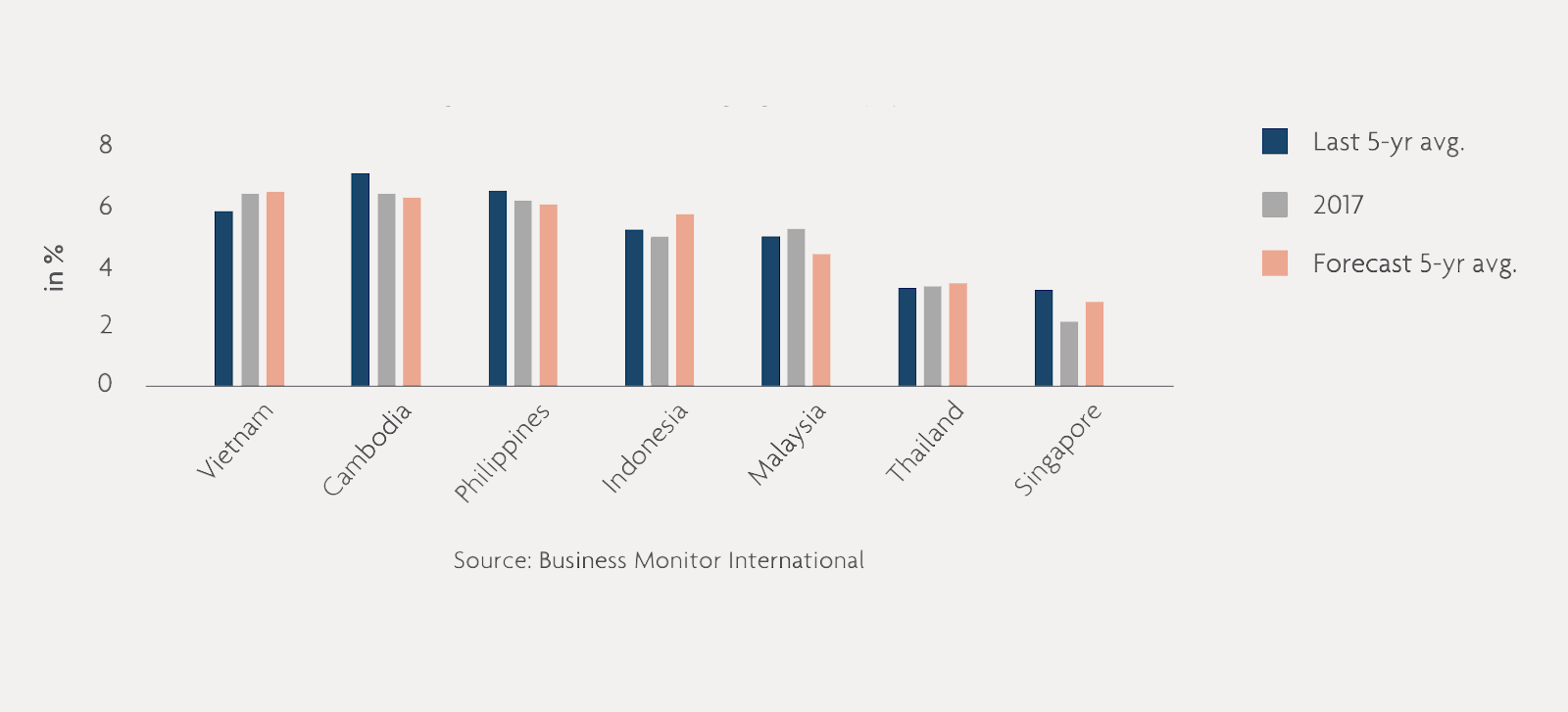 Real GDP average growth (%) of ASEAN digital leaders (Source: Business Monitor International)
Strategically located in the heart of the Asia Pacific region, ASEAN is a dynamic economic hub with a total population of 647.45 million inhabitants, generating a GDP of 2.92 trillion U.S. dollars in 2018. It has a young and digitally literate population, which opens up great opportunities to a vibrant tech entrepreneurship scene, particularly for Fintech solutions. 
Apart from Singapore, other ASEAN countries still have a long way to go. However, positive signs from startup communities to innovation initiatives within traditional organizations lead experts to believe that the innovative and tech-savvy population will propel innovation and make ASEAN a powerful hotspot for Fintech.
   2. The fast pace of the Internet and mobile penetration
The opportunities for emerging technologies have also been powered by the rapid growth of the Internet and mobile penetration. Through the expansion of technological infrastructures that support Internet connections in Southeast Asia, the rates of Internet penetration and social media penetration have both reached approximately 60%, while mobile connectivity grows up to 141% in 2018. The large and growing digital population helps sustain the digital business expansion and enhances the fast-growing e-commerce sector.
   3. Speed of technology adoption
ASEAN customers are often known for their openness to new technologies and digital products facilitating favorable changes in the technology ecosystem. In the past, the main drivers of competition in the financial services industry were price, product, and scale of the branch network. However, now it's all about the customer experience. As life gets busier, combined with the incredible pace of digital penetration, customer behaviors are also changing quickly as people put more emphasis on speed, convenience, simplicity, and responsiveness. Especially among the younger generation, digital-based transaction approaches have grown rapidly and become the new norm in banking and payment. This helps drive consumption via e-commerce sites and streamlines the shopping and payment process to a greater extent. The less friction of achieving needs, the more users are willing to utilize innovative and consumer-friendly technologies in their daily lives.
Resonating with the increasing consumer demand, the governments also encourage cashless payments. In Vietnam, Prime Minister Nguyen Xuan Phuc announced that the government will invest in modernizing the national information infrastructure system and connectivity, developing smart industry based on digital technology, and plan to reduce cash-based transactions in shopping malls or convenience stores to less than 10% by 2020.
   4. The need for financial inclusion
Like most countries in Asia and Africa, there is a large unbanked population in ASEAN, considering many nations are still emerging markets. Low-income groups as well as the population in rural areas often don't have access to banking services and would have to go through cash-based approaches for bill payment or retail purchasing. As such, insufficient financial inclusion has become the main driving force for Fintech service providers to join the game. In fact, a survey conducted on private Fintech firms has revealed that the low penetration of banking services brings ASEAN countries to the forefront in the development of financial technologies. This also puts pressure on banks and traditional financial institutions to expand access to this potential customer segment.
Conclusion
The future is bright in Fintech for ASEAN. In recent years, Southeast Asia has proved itself to be one of the most potential economic hubs thanks to the dynamic, innovative market and population, greater speed of digital penetration and technology adoption. These characteristics, combined with the initiative of reaching out to under-served populations have shaped the Fintech market opportunity, transforming the payments landscape and providing greater value for its people.
——————–
How do you think about this article? Please share it with us via the comment section below.
>>> Go back and read Part 1 to learn more about the definition of Fintech and the rise of this trend recently.
According to Entrepreneur + EY + Forbes + Medium
PRIMUS – TOP MANAGEMENT JOBS ONLY