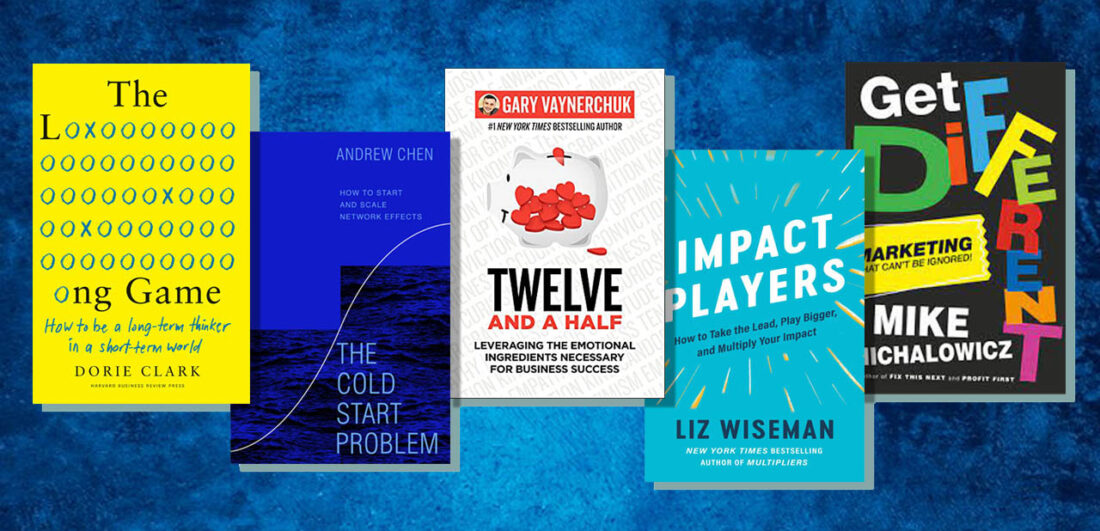 These 5 Books Will Teach You How to Become a Top-Performing Entrepreneur in 2022
Author: Jack Le2 yearsago 0 Comments 674 Views
We all have limited time. Here are the business books you should read this season.
1. The Long Game – Dorie Clark
Management expert Dorie Clark's new book thoroughly debunks the myth of an overnight success. Coining the term "strategic patience," Clark presents a roadmap for professionals,  entrepreneurs, and anyone who wants to aspire to big things. 
What's the big idea? Clark's point of view is that you need to put a stake in the ground of the things you want and then move forward towards them with persistence, with resilience, and without fail.
What's the big idea? Clark's point of view is that you need to put a stake in the ground of the things you want and then move forward towards them with persistence, with resilience, and without fail.
2. The Cold Start Problem – Andrew Chen
Andrew Chen is a former startup executive (including Uber) and current investor at Andreessen Horowitz. He is keenly interested in marketplaces – social networks, workplace collaboration tools and other tools which grow exponentially assuming they have "network effects." This means they get more and more useful to users and therefore valuable to the company the more that users adopt the platform.
But think about this: when a company first launches its marketplace, nobody is there. Which means it's really not usable, since there is no incentive for users to stick around in the absence of any other users. How can this nascent company turn into a mighty giant from nothing? Chen conducted hundreds of interviews with founders from Pinterest, Dropbox, Google, and many other companies to see if he could codify the framework that leads to success in building and scaling network effects.
3. Impact Players – Liz Wiseman
Liz Wiseman is a management thinker and speaker who has been studying what brings out the best in leaders and teams for decades. She identifies 5 ways "Impact Players"  distinguish themselves: 
Figure out the real job to be done

Step up and lead

Move things across the finish line

Learn and adapt to change

Make heavy demands feel lighter
4. Twelve and a half – Gary Vaynerchuk: Leveraging the Emotional Ingredients Necessary for Business Success
Vaynerchuk is a well-known successful entrepreneur, investor and best-selling author. In his 6th business book he unpacks the emotional traits – the soft skills – which he calls the secret to his success. 
The book is structured as an ingredient list, with each chapter an ingredient, like "self-awareness" and "curiosity." (There is a delicious hint inside the book that "tenacity" may be the seed to his next book.) 
It's a dishy memoir and a kind of "best of Gary" anecdotes and reflections. In part 2 he offers "real-life scenarios" which are fantastic to talk through with your teams about what they would do, and which Vaynerchuk answers from his perspective, using the soft skill elements. The end of the book contains exercises you can use to improve each of the skills in the book.
5. Get Different – Mike Michalowicz
Mike Michalowicz is a 7-time best-selling author, speaker and top marketing expert. In his latest book he covers differentiation. In an increasingly noisy world, you as a business owner, as a leader, and as anyone wanting to get your ideas out there have to find various ways to stand out. 
Michalowicz is a great business thinker because he thinks differently. And in this book he unpacks his "DAD" system: Differentiate, Attract, Direct. Michalowicz spends the majority of the book diving deep into the DAD marketing formula. He then shares specific anecdotes and examples of how people adopt these techniques and use them. His point of view is that it's more important to build your muscles in being able to try new things and taking small, low-cost, low-effort action to see what works. The biggest hurdle, he says, is the courage to do something different.
According Forbes
>> View more: More than 70% of IT Employees is Considering A Career Change Over Next Year" Study Shows
>> View more: Drive Performance With Authentic Manager-Employee Relationships
How do you think about this article? Please share it with us via the comment section below.
PRIMUS – TOP MANAGEMENT JOBS ONLY