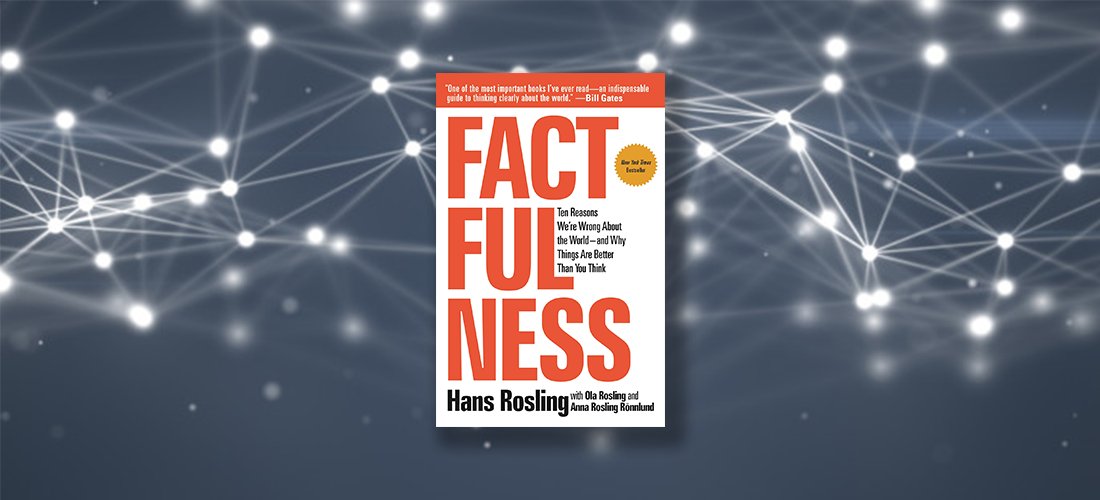 Factfulness – Book Review
Author: Mia Bui4 yearsago 1 Comment 2.1k Views
Factfulness – The book made Bill Gates once stated: "The world would be better if millions of people read this book" was introduced to the public in 2018. From the time of its launch, the book has attracted nothing but praise from both experts and readers. Bill Gates became a loyal fan of this book, constantly bringing Factfulness his list of good books, and even gave it to all newly graduated students as a congratulatory gift. So Factfulness contains what messages make the world excited like that?
Factfulness was written by Hans Rosling, whom was an esteemed public educator who strove to enlighten the minds of people around the globe. He used his decades of experience as a medical doctor and professor of public health to provide useful information about and solutions to the challenges of the day, especially in low-income communities. Before he passed away in 2017, Rosling gave extremely popular TED Talks and was ranked among the most influential people in the world by Time magazine. It is because of his constant efforts throughout his life, Factfulness became his last passion and deserved to become a valuable work of mankind.
Factfulness reshape our thinking that "this world is bad"
First, Rosling shows us the first mistake while still dividing the world into two categories "developed countries" and "developing countries." Since then he divided the world into four groups of people in the world. This structure is considered to be more detailed because if the world is divided into two halves, if you are not half A, then you certainly belong to half B. The old definition causes people to think and sink on negative things.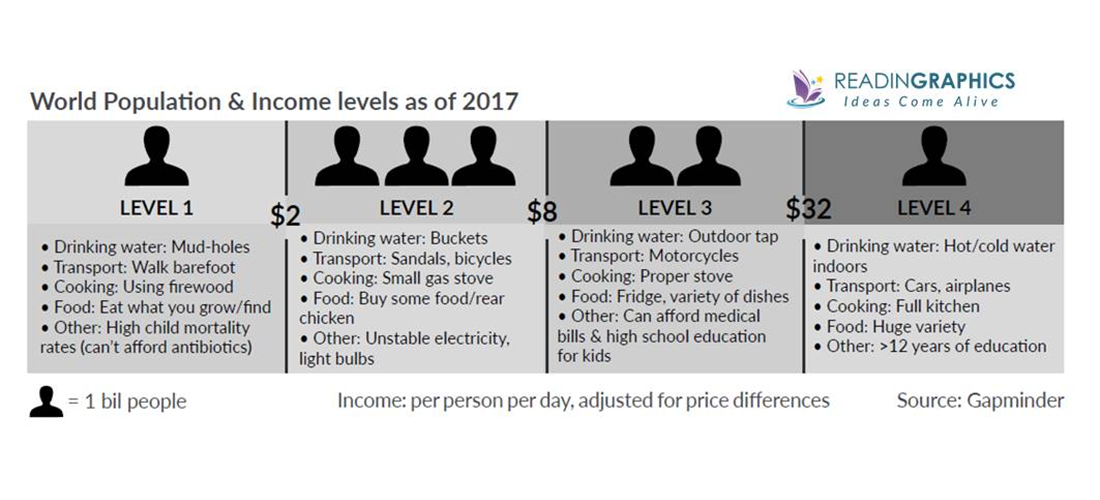 This is just one of the meanings that Rosling introduced in Factfulness. In this book, he leads us through 10 instincts that prevent us from seeing the world in a more realistic and optimistic way. These instincts make us look at things more difficult. Figuring out a disaster that happened, the tornado caused 10 people to die, we felt so catastrophic. But if you put this disaster in another historical context, 10 is a small number, because the number was more haunting in the earlier day. But as we have made scientific progress with a much better forecasting system, fewer people face these disasters.
The five keys that Factfulness provides:
The world is in a better state than we think: As mentioned above, we are worried and negative about everything. When we worry about everything instead of observing the whole picture based on the truth, we can lose the ability to focus on really threatening things. We worry about grief over issues that are much better than the past but forget the really worrying things. Pessimism about the world prevents us from having fun, optimism, and open-minded which we need to continue to grow and move forward.

"It's easier to accelerate progress if you know how far we've already come" Gates told Time about the book. "If you don't believe the world has improved, you're more likely to look at a tragedy and think nothing can be done. But someone who knows how much progress is possible can look at a bad situation and say, "How can we make this better?"

It's easy to study data sets and run analyzes, but if you want to fully understand the world, you need to discuss it with real people. The data will let you see one side of the problem, but you need to talk to people to understand the whole. Data does not know how to lie and it is very necessary for the present era, however, the insights that are heard directly from people without going through the analysis will also give you a meaningful story.

There is no replacement for getting out in the real world. That's what Rosling did to understand how the world works and to show biases that so many people let it interfere with their judgments. Remember, only facts tell the true story. 

When you trust the facts and learn it directly from the beginning, there is no replacement. Learn about the truth behind every story, that will help you not to assume anything. Every time you think something is right, you close your mind and don't listen anymore. However, we need to be open to moving forward. So to prevent this from happening, always try to come to the truth first
"Inspiring and revelatory, filled with lively anecdotes and moving stories, Factfulness is an urgent and essential book that will change the way you see the world and empower you to respond to the crises and opportunities of the future."
Who should read this?
Readers concerned about the planet

Activists and environmentalists

People involved in public health
——————–
How do you think about this article? Please share it with us via the comment section below.
PRIMUS – FIRST CLASS JOBS ONLY