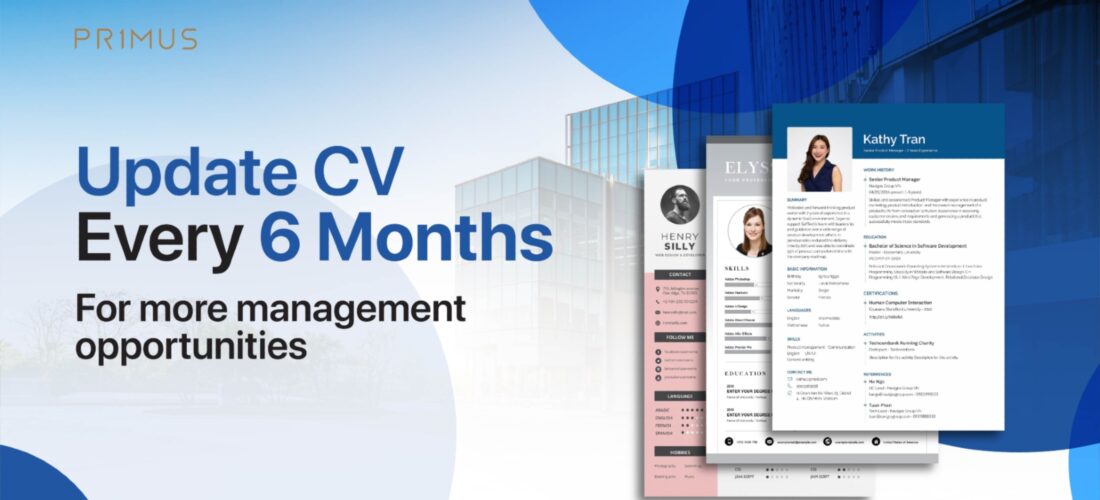 Update CV Every 6 Months: Needed or Not?
Author: Jack Le10 monthsago 0 Comments 544 Views
Most people have the mentality that they only start updating their CV when they are about to find a new job. However, many leading HR experts recommend updating your CV regularly, at least every 6 months even if you don't intend to change your current job. So why do experts give such advice? The answer will be in the article below.
Realize how much you've improved
We can measure our own progress by regularly updating our CV. Most people have their first CV by the time they are about to graduate from college, but so far, you have experienced and contributed to different Enterprises. This is a way to help you seriously consider and evaluate yourself.
Besides, this habit also helps you to have a basis in presenting to your superiors suggestions for easy promotion. Comparing your CV when you apply for a job and your newly updated CV helps your superiors easily assess your personal achievements and contributions to the Company, thereby making a more objective decision in the recruitment process promotion.
It's much easier to recall what you've done in 6 months than it is to try to remember what you've done in the last 6 years. So if you regularly update your CV, you can save a lot of time because in fact, writing a CV is not always an easy job, even making you feel pressured when you have to filter information. most relevant and valuable information.
In addition, if you don't update for a long time, you may forget about important achievements that can help beautify your CV and prove yourself in front of employers, making sure you don't miss any chances.
Identify skills that need improvement
Along with realizing how much you have improved, you will also easily see the skills you are still weak and need to be improved to develop further on your career path. From there, you can improve the necessary skills in a short time, which is a premise for your superiors to notice your positive change, to see your efforts and dedication more.
On the other hand, when you recognize your weaknesses and try to improve them, you may think about a new job, which may even prompt you to consider higher positions, related to management. that you have never applied confidently before.
Increase your chances of getting a job offer – get closer to your dream job
You never know when you might lose your current job, or even if you're still doing well in your current job, you're not really enjoying and satisfied. Regularly updating your CV, especially for managers, will significantly increase your chances of getting a job offer, and moreover, the path to your dream job or the company you've always wanted. become closer.
How to update CV on PRIMUS
There are many ways for you to update your CV on your PRIMUS account, and it's actually quite easy and quick to do, and doesn't take as much time as many people think.
Upload new CV: after you have updated your CV, you just need to go to your PRIMUS account, click the update CV button and upload your new CV.

Edit directly on your CV online: to save time, you can go to your PRIMUS account to create or edit directly on your online CV.

Create an account on PRIMUS: if you don't have a PRIMUS account, you can click here to create an account and update your CV in one of the two ways above.
——————————————–
>> View more: How Managers Can Change Toxic Workplaces And Build Effective Teams
>> View more: The Future Of Work and The Need For Upskill And Reskill To Worker
PRIMUS – TOP MANAGEMENT JOBS ONLY